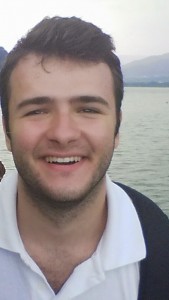 Peer picks are back for 2016, coming at you from Vlad '16.
As the semester is starting up many opportunities are popping up in early January and February, even before our Career Fair on February 2nd. This week I'll be writing about a great internship at the Guggenheim Museum, and for the second one, we'll explore the opportunity to travel and work in the UK.
1 Solomon R. Guggenheim Museum, various internships – Deadline January 30
2 US-UK Fulbright Commission, various internships – Deadline February 1
The Solomon R. Guggenheim Museum, one of the most popular destinations in New York City can be the starting point in your career in the world of art. If you're passionate about a career in the field, there's plenty of opportunities, regardless of your major. There's plenty of opportunities for students with an interest in departments such as Curatorial, Development, Education, Management, Marketing and Public Relations. You'll gain a general knowledge and broad understanding of how a particular department functions within the context of a major museum, as well as specific applicable skills. You'll also be working with some of the most cutting edge projects and initiatives from the museum, such as the Guggenheim Abu Dhabi Project, or the Guggenheim UBS MAP Global Art Initiative- so many opportunities for networking! These skills and contacts will make you a high-value employee, if you chose to continue in the field. Since you're passionate about the the arts, the Guggenheim Museum will make sure to make your summer a memorable one, with field trips to sites such as auction houses, galleries, corporate collections and other museums, including outside of New York City.
The Summer 2016 Internship program will begin on June 1 and end on August 12. Internships are full-time, four days a week Monday-Thursday with half-day seminars on Friday. Candidates must be of junior-year college level or above to be considered. Applications are due on January 30, 2016 (postmark). For more details, search for the Solomon R. Guggenheim Museum Summer 2016 Intern position on The Bridge.
Solomon R. Guggenheim Museum, various internships – Deadline January 30
The second internship I'll be writing about caught my attention because it sounds like a great opportunity to combine a rewarding internship with the opportunity to travel in the UK. The Fulbright Commission is an educational commission that fosters mutual understanding through educational exchange between the US and the UK. The commission fulfills two goals: it provides financial support through the Fulbright Awards Programme and provides information about the possibilities of studying in the US. As a junior in high school in Romania, Europe, I found the Fulbright Commission's EducationUSA advisory very helpful. They are probably one of the biggest reasons I chose the US to continue my education. The commission offers internship for working with the Awards, Advising and Alumni. So you could be working to help counsel students interested in US education, assist in event planning and maintaining relations with Fulbright alumni. So picture yourself doing all of that awesome work, and then heading out on a stroll towards the London Eye, or taking a double-decker bus for Westminster Abbey. Now that sounds like a great internship! Look up the Fulbright Commission on The Bridge for more details.
US-UK Fulbright Commission, various internships – Deadline February 1
Follow tweets on @HireABison to get more updates on what's happening on the Bridge – like what employers are coming back to campus, info sessions, job and internship deadlines.
We highlight a few Peer Picks that we think you'll find particularly interesting every week.  Learn more by checking out each pick on the Bridge. And while you're there, see what other interesting opportunities you find! Bridge application deadlines are usually Monday nights at 11:59 pm. If you have any technical difficulties with your application, be sure to email recruiting@bucknell.edu before the deadline and we will be able to help you.