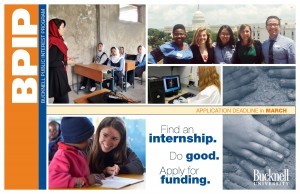 The BPIP Internship Fund provides a $3,000 stipend for undergraduate students (first-year students, sophomores, and juniors), who have secured full-time, unpaid summer internships in the nonprofit and public service sectors.
The application process is competitive and students must have secured (and confirmed) their internships before the application deadline.
Come learn more about BPIP and the application process at the following info sessions:
Wed 2/4 @ Noon

ELC 217

Mon 2/9 @4:30

ELC 217

Tues 2/17 @ Noon

ELC 217

Tues 2/17 @ 4:30

ELC 217

Wed 2/25 @ 5:00

ELC 217
We will also be offering two Question & Answer sessions on March 17 and March 18 from 2:00-3:30 pm in the CDC for any last minute questions; bring your questions and we will help you!
Application Deadline: Wednesday, March 18, 2015
For questions, contact bpip@bucknell.edu