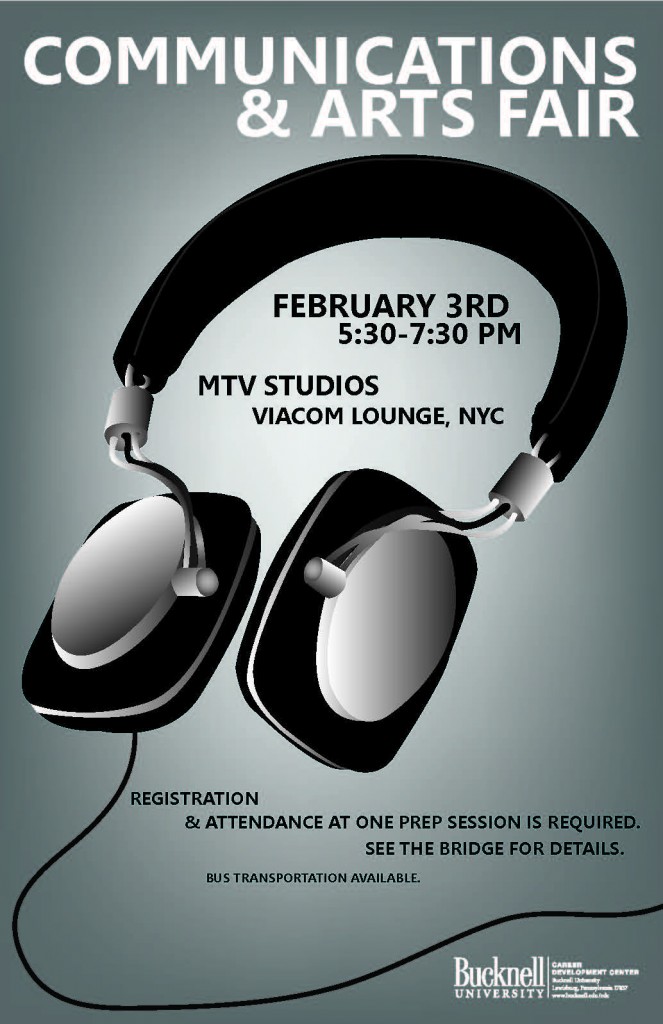 Communication & Arts Fair
Tuesday, February 3rd – Sign up
5:30 – 7:30 pm
MTV Studios in the Viacom Lodge – NYC
Transportation Available (Reserve your spot in CDC)

The purpose of this event is to offer students an environment to network with alumni, parents and representatives from the Communications Industry  (Marketing/PR, Advertising, Journalism, Publishing/Print Media, TV/Radio, Broadcasting) & Arts Industry (Film /Video, Graphic Arts, Music, Performing Arts, Visual Arts).  The Participants will be able to share information about their career paths, their organizations and any volunteer, internship and full-time positions they presently have or plan to have available in the future.  See the list of registered employers!
Students must register on the BRIDGE and go to 1 of the 2 Prep Sessions:
Thursday, January 29, 12-12:30, LC, Gallery Theatre
Thursday, January 29, 5-5:30pm, LC, Gallery Theatre
All students who registered for and plan on attending the fair must attend one session. An overview of the fair including a list of employers attending will be presented. Information on networking and business etiquette will also be reviewed.
Bus transportation will leave at 1pm from campus and is available on a first come, first serve basis by providing the CDC with a $20 deposit (which will be refunded when you get on the bus); seats must be reserved by coming to the CDC.