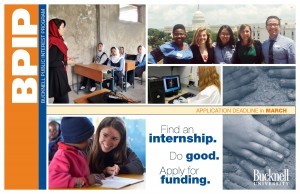 The BPIP Internship Fund provides a $3,000 stipend for undergraduate students (first-year students, sophomores, and juniors), who have secured full-time, unpaid summer internships in the nonprofit and public service sectors. The application process is competitive and students are encouraged to start thinking early about internship opportunities; the application deadline is March 18, 2015.
You may see the application deadline in March and think you have time BUT you need to have found, applied for, and landed your non-profit internship BEFORE you apply. So it's best to come learn about the program as soon as you can.
Fall Info Sessions:
Tuesday, Nov 4, 12:00

– 12:45 pm – ELC 217

Wednesday, Nov 19, 6:00

– 6:45 pm – ELC 217

Friday, Dec 5, 12:00

– 12:45 pm – ELC 217
Don't miss a special BPIP Internship Lunch on Friday, November 14 at Noon in ELC Center Room– past interns will share their experiences and it's sure to be informative! Sign up on the BRIDGE by 11/13
For more information contact Marilyn Shull, Program Director, Bucknell Public Interest Program, at mshull@bucknell.edu or 570-577-1238.