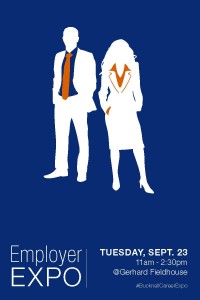 The annual Employer Expo is Tuesday, September 23rd on campus! Who's excited? We've got a ton of stuff going on around the fair so I'll spare you my witty intros and get right to it.
First – make sure you check which companies are registered (so far) so you know what companies you will definitely want to hit and you can do some research on them (to help impress them!).
Secondly – make sure you also check the BRIDGE for updates and more employer sessions
Expo Prep Session & Resume Workshops
Sept. 17 at Noon in ELC Gallery Theatre
Sept. 18 at 4 in ELC Gallery Theatre
Learn how to make the most of Employer Expo! We'll discuss what to expect and the most effective ways to connect with employers at a large scale on-campus career fair. After stay for a session to get your resume ready for the fair.
Resumania
Sept. 19 from 11-3:30 in the CDC (Botany Building)
Sept. 22 from 11-3:30 in the CDC
Bring a copy of your resumed (printed out) for walk-in hour resume reviews to get you ready for Expo. You'll also receive free resume paper and have the chance to pre-make your name-tag giving you more time to talk to companies.
Employer Office Hours & Info Sessions
Sept. 22 at various times
– Deloitte Recruiting Office Hours: 9/19, 11-3:30 and 9/22, 10-2:00, CDC
– Cigna Info Session: 11:30 – 1:30, ELC 213
Nielsen presents "How to Work a Career Fair"
Sept. 22 from 6 -7 in ELC Center Room (256)
Learn tips on how to make the most of Employer Expo from Nielsen reps
Diversity Dessert
Sept. 22 from 7-8 in ELC Terrace Room
This year, we're highlighting Bucknell's active multicultural and diversity focused student organizations to employers coming on campus for the Employer Expo. The Career Development Center's goal of the event is to connect students to organizations/employers looking to diversify hiring.
EMPLOYER EXPO!
Sept. 23 from  11-2:30 in the Fieldhouse
Come ready to network with employers; use #BucknellCareerExpo to join conversation about the Expo.
LinkedIn Profile Photo Op
Sept. 23 from 11-2pm in the Student Lounge at Expo
This is your chance to get a FREE professional photo taken for your LinkedIn Profile (then come to 9/25 LinkedIn workshop)
After Expo Employer Info Sessions
Sept. 23 at various times
– Accounting Careers Panel: 4-5, Rooke Chem
– Exxon Mobile: 5:30 -6:30, Dana 113
– Goldman Sachs: 7-8:30, ELC Terrace Room
Check the BRIDGE for updates and more employer sessions.