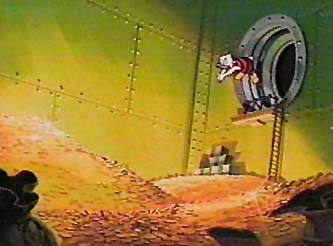 Is your dream to swim in your money like Scrooge McDuck? Just me. OK.
Either way, you work hard for your money and if you love it as much as I do you'll at least want to learn how to budget, invest and save as much of it as possible. Budgets in college vary greatly from those in the "real world" and once outside the bubble you'll also be expected to know how to set up your 401K (or other retirement package), do your taxes…eventually get a mortgage! All this stuff can be overwhelming but if you start learning and planning now it will get you that much closer to retirement at the ripe old age of 65. I know you think we are nuts, talking about  about retirement when you don't have a job yet (or haven't started), but learning about these things now (for free and from Professors!) will definitely help you in the future. That's why we've put together the Love Your Money: Personal Finance Series!
Big paychecks come with big choices and we want you to enter the real world with confidence about managing your finances.
Join us on 3 Thursdays in February to learn about personal finance from 12 – 12:50 in the ELC Gallery Theatre
Topics Per Day:
Thurs. Feb 9 – Budgeting, Insurance & Taxes
Get ready for life after Bucknell with Curtis Nicholls, Assistant Professor of Management and learn the basics of personal finance.  Professor Nicholls will cover budgeting for your lifestyle, talk about insurance and taxes, and explain the Time Value of Money.
Thurs. Feb 16 – Credit Score, Buying a Car & House
In this session, Assistant Professor of Management Cindy Guthrie will discuss strategies for spending your money wisely and how to manage debt. Learn about credit score and credit cards, how mortgages really work, and tips for buying that shiny convertible.
Thurs. Feb 23 – Investments & Saving for Retirement
What will you do with the excess cash flow from the big paychecks you will make after graduation? Assistant Professor of Management Stacy Mastrolia will discuss the players and products in the investing arena and how you can reach your financial goals. Learn about the many tools you can use to save for your future successfully: CDs, mutual funds, 401ks, IRAs, and others.

Students may attend any or all sessions of interest. Sign up on the BRIDGE!
This is a Life After Bucknell Program designed for seniors, but any interested students may attend.