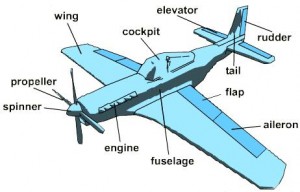 Back at the end of March we welcomed Ray Sisson '87 back to campus for a talk entitled "From Law to CEO in Aviation – An International Career." Mr. Sisson was an economics major at Bucknell and is now the CEO of AWAS, an aviation/aeronautics company in Dublin, Ireland.   We made the most of Mr. Sisson's visit from across the pond and wanted to share with you what we, at the CDC, gleaned from his talk.
Here goes:
How does one go from having no idea of what they want to do to doing something they love and living in countries all over Europe, Middle East and Asia?  Ray Sisson '87 returned to campus this past Spring to talk about his path from economics major to lawyer to CEO of a commercial aircraft leasing and financing  company in Dublin, Ireland, all the while living and working abroad for most of his career. One of the first things he shared with students is that he had absolutely no idea what he wanted to do for a career when he graduated.  He knew that he liked studying law and thought he would enjoy law school, but he decided to get work experience before going to law school, so he spent a year working in Silicon Valley with Digital Equipment Corporation.
After getting his law degree from Georgetown University, he practiced in a large corporate law firm.  He soon realized he most loved working with their aviation clients.  He started working for General Electric Capital Aviation Services and while there, worked in Southeast Asia/Pacific.  Based in Singapore  he helped airlines recover from the Asian crisis, and then later helped set up new aircraft leasing operations throughout Russia, the Middle East, and Africa while based in Dubai.  During his time in Singapore and Dubai, Ray realized he performed well in distressed and developing markets, with little infrastructure and support to rely on – in short, Ray recognized that there are significant expat careers available for people who can help grow or turn around businesses in countries either in crisis or in developing markets.  Having determined that   he wanted to be a CEO of an aircraft leasing company someday, Ray attended the University of Chicago while working full-time and received an MBA in 2003.  He worked in senior management in aviation companies in Switzerland and Ireland and is now CEO of AWAS in Dublin.  He loves what he does – traveling around the world buying, selling and leasing aircraft – it's hard for Ray to think of his job as work when he's in the cockpit of a Boeing 747-400 in Qantas' hangars in Sydney. Some words of wisdom Sisson shared from his international career journey so far:
Pick something you love and want to know a lot about and become a subject-matter expert, ideally in something complex.  This expertise will make you valuable to others, including those who are overseas and who would normally hire local talent.  In short, have a skill or knowledge base that is difficult or impossible to others to copy or emulate.
He uses what he learned in his economics classes every day.  Given that planes take years to build, and require significant capital investment, it is important Ray knows how to make good decisions based on economic trends and knowledge of the financial and political environments where AWAS' planes are leased and financed.
Being a lawyer helps him better work with his legal advisors and enables him to structure complex cross-border transactions.  Having finance knowledge from his MBA helps him understand deal economics, airline business plans, bank and capital markets financing opportunities, and  tax laws and regulations which drive cross-border transactions, all of which  have a great impact on his bottom line.
When he hires staff, he looks for intellectual curiosity and a continuous motivation to learn.  While he was at GE, they performed studies about the best performers in management and found out that intellectual curiosity and desire for continuous learning were the key determinants for future success – and a lack thereof was a key predictor of future failure.  If you don't love what you do and always want to learn more, you're in the wrong career.  In Ray's position, with large amounts of capital at risk invested in expensive assets leased to airlines around the world, it's important to hire smart thoughtful people who love aviation and are always thinking of better ways to drive AWAS growth and helping airlines lease and finance their fleets.